Heart of Jesus, Our Peace and Reconciliation
In this lesson, Annabelle Moseley, poet; author; and Professor of Theology, leads Day 29 of the 33-Day "Our House of the Sacred Heart" Consecration and teaches "The Lesson of the Child's Blessing" as a real-life example of waiting. Beautiful prayers, devotions, art, stories, scripture and poetry are included in this podcast that won't take much of your time… but is time well-spent.
Today's Challenge
Let us pray with the pure trust of a child the Prayer of Trust in the Sacred Heart of Jesus by St. Margaret Mary Alacoque:
Jesus, I believe in Your personal love for one so sinful and worthless as I am

 (Repeat after each of the following: Heart of Jesus, I put my trust in You.)

 I believe that Your love for me is from all eternity and that it is as tender as a mother's love.
 I believe that You have lovingly and wisely planned everything that shall ever happen to me.
 I will never seek pleasure forbidden by You and will never lose heart in my efforts to be good.
 I will accept the crosses of life as I accept its joys, with a grateful heart, and I will always pray, "Your holy will be done in all things."
 I will not be worried or anxious about anything, for I know You will take care of me.
 However weak or sinful I may be, I will never doubt Your mercy.
 In all my temptations…
 In all my weakness…
 In all my sorrows…
 In every discouragement…
 In all my undertakings…
 In life and in death…
 Heart of love, I put all my trust in you; for I fear all things from my own weakness, but I hope for all things from Your goodness.

 Amen.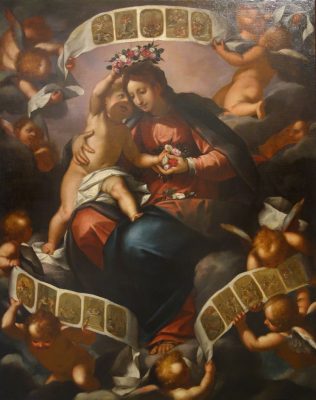 Reflection on Art
What do you love most about this painting? See if you can spot the 15 mysteries of the original Rosary, Mary's Psalter in images held above and below the Virgin and Child. What is so poignant about what Jesus is doing to his Mother, crowning her even before the Paschal Mystery unfolding…
Questions of the Day
Have you ever been inspired to "keep going" by looking at a print, painting, or photograph of a loved one?
What person in your life makes you want to keep on persevering?
Download the prayer to the Sacred Heart of Jesus here if you'd like to save it or print it for reference!

Listen to Author Annabelle Moseley interviewed by Dr. Mary Anne Urlakis on her show "Vows, Vocations, and Promises: Discerning the Call of Love." Hear Annabelle talk about what inspired her to write this book, what it was like to write it, why she decided to lead a Consecration to the Sacred Heart and answers to other intriguing questions.
Our House of the Sacred Heart is the companion text for this 33-day Consecration to the Sacred Heart. Click on the image to get your copy today!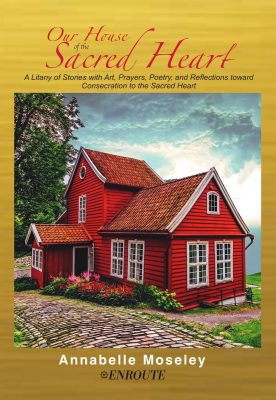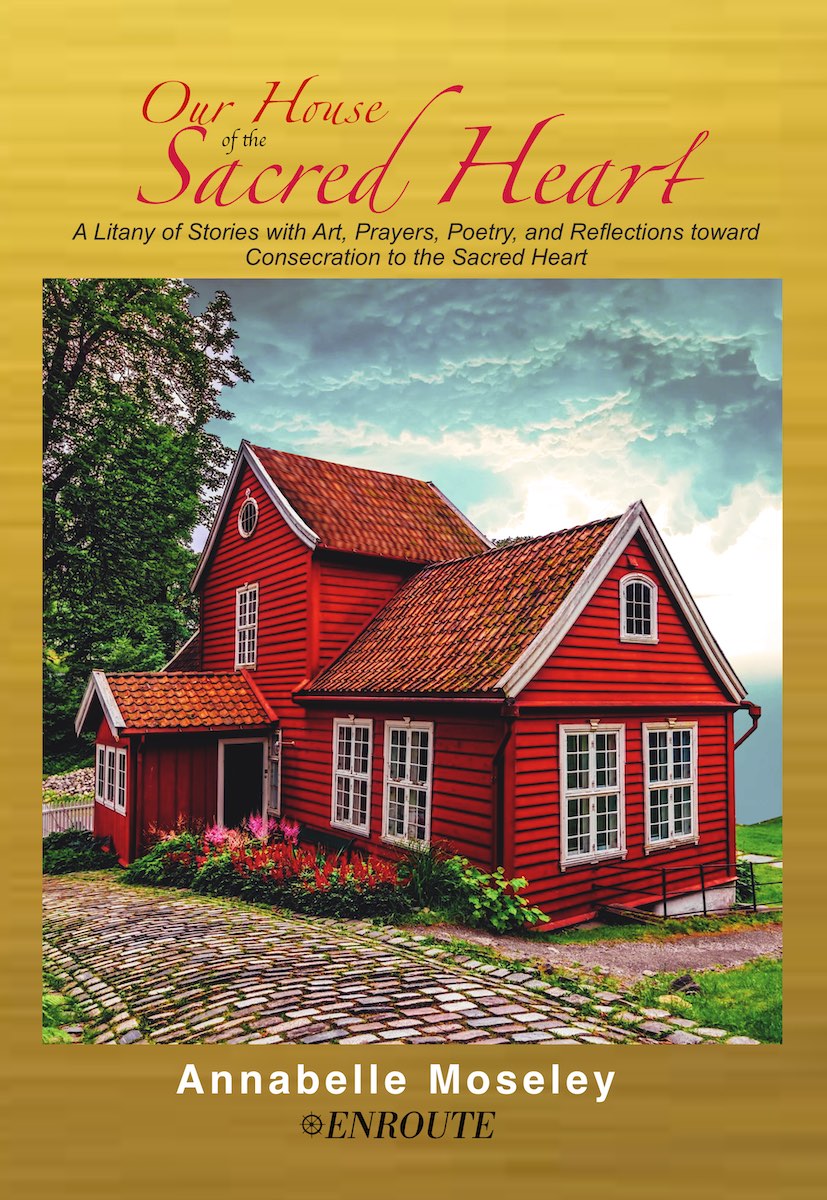 Just getting this for the first time? Sign up here, or go to the Consecration Home to start or resume your journey!